Conduct truly lean verifications
Put time back into your day by taking spreadsheets out of the equation.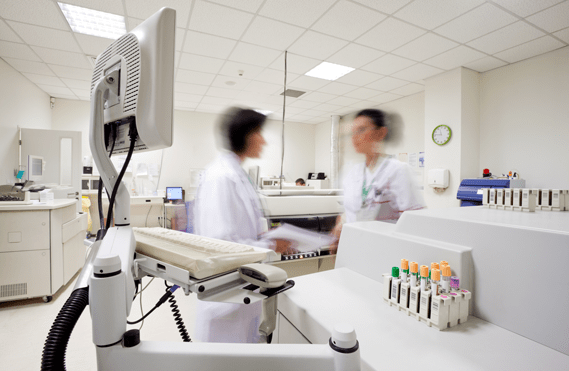 "Validation Manager helped our biochemistry department cut the time required to complete instrument verification projects by 30-40%."
Martyn McAdam
Blood Science Service Manager
Explore ways to use Validation Manager
Verify new instruments and assays 6 times faster
Implementing new instruments in clinical laboratories is a large project involving the entire laboratory staff. To ensure the new instruments and methods work as expected, a thorough verification project is needed.
Validation Manager helps you complete these tedious and time-consuming projects 6 times faster than before.
Easily validate in-house test performance
After the new IVDR regulation was released, validations of in-house methods have become complex and risky projects.
Validation Manager's up-to-date protocols, traceable analysis, and automatic reporting help you tackle these projects with ease.
Routine quality control ensures the performance of your analytics also stays on acceptable levels in the future. ISO standards require a number of routine measurements to be completed to stay up-to-date with your methods' performance.
Whether you need to complete routine parallel instrument comparisons, reagent lot comparisons, estimate measurement uncertainty, or total analytical error, Validation Manager helps you save enormous amount of time each day.
Details of your method performance
Sometimes it is necessary to dig deeper into your method's performance. Whether your method is qualitative or quantitative, we have you covered.
You'll always find a study fitting your needs in Validation Manager, ranging from linearity, precision, limit of detection, to accuracy and all kinds of comparisons. Just choose your protocol depth and upload data to Validation Manager. Automatic analysis and reporting lets you dig as deep as you want into your methods performance.
"Validation Manager enables us to produce valid verification/validation reports without the need for advanced math statistics knowledge. Now, our validation/verification process can be completed by most staff levels."
Ana Teles
Clinical Biochemistry Section Lead
Save valuable time by automating burdensome and time-consuming verifications
No more manual data entry. Import data with one click, directly from instruments, middleware, LIS, or spreadsheet files into Validation Manager.
Have your raw data automatically turned into performance metrics in a snap, so you don't have to do the heavy lifting of analysis and calculation.
Automate reporting from end to end. Go from raw data to ready-to-review reports in just few clicks.
Less time spent on verification data management 
Less routine quality work
"Without doubt, Validation Manager has enabled us to progress instrument verification and method comparison projects at a much faster rate with current staffing levels, as opposed to our previous Excel-based approach."
Denise O'Toole
Laboratory Quality Manager, Children's Health Ireland (CHI) at Temple Street
Improve the quality of your laboratory
Stop struggling to get each individual following the same processes. Create organizational templates to standardize how verifications and reports are done in your laboratory, so you can rest easy that all results are 100% comparable.
Always have an eye on your laboratory performance. Track performance metrics and KPIs in real time right inside Validation Manager.
Take action at the right time. Catch issues regarding instruments, methods, and reagent lots right when they pop up.
Effortlessly keep up with the ever-changing regulations. Validation Manager ensures you use the latest protocols when making conclusions about your quality.
Automated measurement uncertainty calculations provides you valuable information about your day-to-day and long-term performance of your methods.
Easy traffic light report gives you a fast and visual way of making sure that your laboratory's performance is always top notch.
Enjoy smooth accreditations
Centrally stored quality data and easy access to all reports provides valuable insights to the entire organization about your laboratory's current performance. You can save hours by sharing data among colleagues during project planning, execution, review and acceptance.
No more hassle to find latest verification reports or measurement uncertainty calculations. Just log in and share the data for accreditation or other quality review. Data is traceable from end report to instruments, reagent lots, laboratories, users, days, and so on.
As Validation Manager is an online service, people can continue working remotely on quality as if they would be inside the laboratory.
Validation Manager has been used around Europe for many years, so the verification reports are widely accepted in accreditations by different organizations such as DAkkS, FINAS, UKAS, and more.
Wondering how Validation Manager can work for your lab?
Schedule a customized demo with our specialist. We'll go through your needs, questions, and ways Validation Manager can help boost your quality.
Request a demo